WHAT PEOPLE ARE SAYING
WORLDWIDE SERVICE.

A+ QUALITY.
"Excellent work and quick response. I will recommend this service without a doubt."
– Rick C., Author
PaperBlazer is loved by people around the world. We help researchers, novelists, businesses, and more.  So when you need proofreading and editing, look no further.  
We work with clients in over 35 countries, including the United States, United Kingdom, China, Russia, India, Japan, South Korea, Cuba, Thailand, Hong Kong, Germany, France, Canada, Trinidad and Tobago, and beyond. As a worldwide proofreading and editing service, we can help you with your document — no matter your location.
With PaperBlazer, your document will be edited by a native English speaker, who has experience teaching English.  Thus, we can help you improve your writing, so you can clearly communicate your ideas.
Don't take our word for it?  Scroll down to see what people are saying about us.
SAMPLE EDITS
---
---
OUR CLIENTS
Our clientele includes researchers, novelists, businesses, and government agencies. We have edited for clients in over 35 countries, and we have assisted writers from high-caliber institutions and organizations, including:
Oxford University
The European Union
The University of Cambridge
University of Michigan
The United Nations
Stanford University
And many others!
PaperBlazer Reviews
"PaperBlazer went above and beyond my expectations!"
– K. L. 
"You have done a great job in proofreading my drafts. Thank you for everything."
— Jian, a Ph.D student at Northern Illinois University
"Thank you so much for your help."
— Melody, a student from Hong Kong
"Thank you very much for your help! I put in many more hours, improved your remarks and really refined the paper. Just handed it in and feel pretty relieved now."
— I.L., U.K. graduate student
"The pressure of dealing with college professors and the stress of being a working adult is taxing, but your company provides professional and fast service that is always on point…once again, I thank your company from the bottom of my heart for the outstanding services you provide."
— S. G., an online college student
"Thanks a million. I really appreciate the service."
— N.P., a graduate student from Missouri
"Dedicated to high academic achievement. "
— Margie D., a professor from Ball State University
Video Testimonial
Proofreading & Editing Samples
We usually edit in Microsoft Word, but we can also edit PDFs, Pages, and other documents.
We use the "Track Changes" feature and comments, and we can edit by hand for some documents.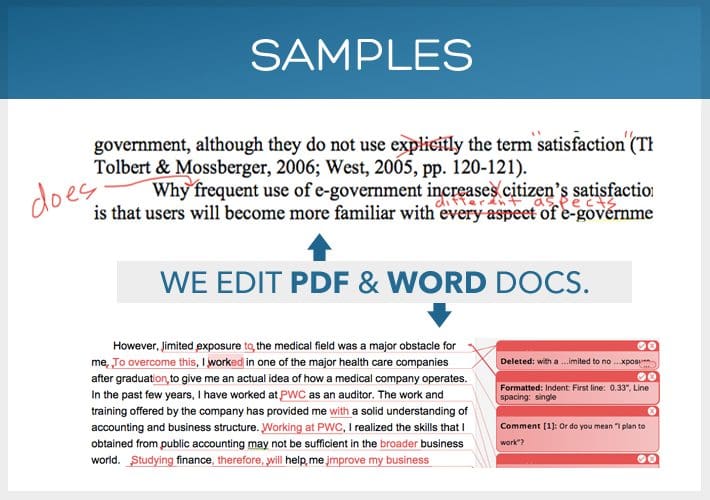 For additional reviews of our proofreading and editing service, read our TrustPilot reviews here.